Dear Yann,
I haven't thought about you for quite awhile... But this morning I put our song on again, in an aeroplane over the sea, and those shivers came over me all over again. I miss you today, and it's nearly 7 months since you decided to leave me.
But just because i don't think of you as much, doesn't mean i love you any less. I am just letting you know.
Yours Truly.
---
Just before the holidays, a great friend of ours parted for the land of Poland... And with that, after a soirée one evening, we invited everyyyone back to our apartment for a last horrah... We do have problems with the neighbours, but Marou doesn't go to poland just every day... i'm not going to point out that we did have about 50 going away parties for him though...
Anyway,this photo was when a few of the boys were in our kitchen.
How to pick out a french man in a pack..
1. Wearing a Leather Jacket.
2. Unshaven. I call it the 2day beard... Even when they shave, they leave a bit of stubble. who knows why. I've learnt not to ask questions
3. ruffled hair
4. They speak french.
ANYWAY! The holidays have loomed upon us yet again, and way too quickly. I would like to day it is 'finally' holiday time, yet with the holidays, exam time gets closer and closer...
These holidays i am hanging out at Disneyland, Paris... despite its name, suggesting that it's in Paris, it really is in Marne-le-vallée, about a 45min RER (fast train) ride from the hub of Paris.
I was working there during the summer period too through the month of august, and half way into september, so i came back for a second round. Yesterday walking into the cafeteria, I was overwhelmed with the ridiculous amount of Halloween decorations salle seemed to be sporting. Pumpkins, spiders and fancy cellophane everywhere. I'd just like to point out, with all ze job cuts disney seems to be making, they could go a little less orange... there's no need to celebrate halloween in that way, really guys, really?
Anyway, on the note of food, I'm semi not complaining, seeing as disney discounts the food, that is, they pay for half of the food in all the employee restaurants and vending machines... so we only pay half price in the cafeteria etc... How am i
NOT
supposed to think about food when it is screaming *eat me. i'm a packet of chips, and only 48 eurocents!* you're right. it's just too difficult.. so i found some dogs to explain the way i feel about halloween.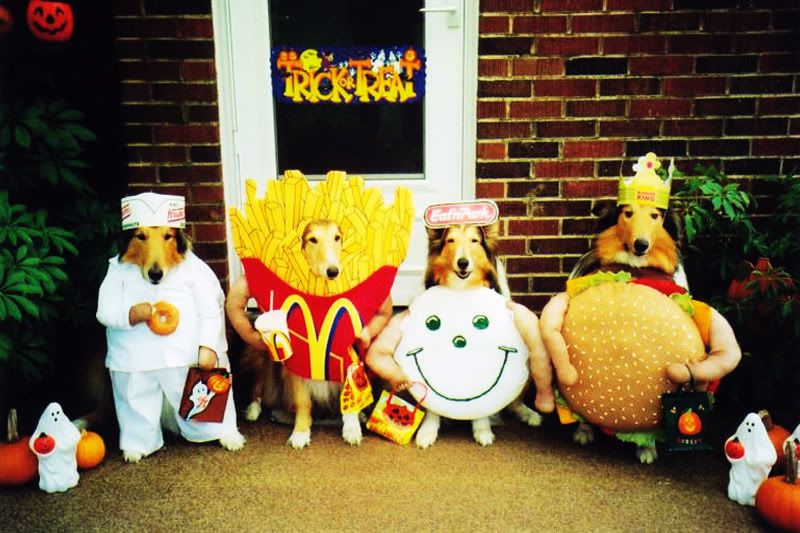 dogs found
here
Oh well, despite everything, It's finally the holidays, happy halloween!
P.s You might realise what great spanish i speak. I decided to 'regularly' meet up with a spaniard called Sergio who promises to teach me a few things about spain. Including being able to say that i have 4 kangaroos at my house.. Who knows, one day it might just come in useful.
Libellés : a typical frenchman, disney, halloween, Strasbourg